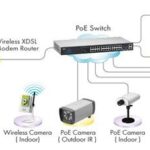 WIRELESS / WIFI CAMERAS
Wi-Fi security cameras connect to your home wireless network in minutes. Because it is connected via internet it helps to view from any place in the world. That is why Wi-Fi cameras are very good and very effective and gives lot of options to the customers.
WITTAG SOLUTION is renowned Wireless and Wi-Fi CCTV Camera Systems Dealers in Vadodara (Baroda), Gujarat, India. We sell it both on wholesale as well as on retail basis and make sure everyone gets quality product.
Feature of Wireless and Wi-Fi Camera:
Low-light night vision
Motion activated recording to provide you with the peace of mind you need
Sound detection abilities for further protection
Email alerts with snap shot attachments (or push notifications)
Browse our wide variety of different Wi-Fi camera models to find the right fit for you