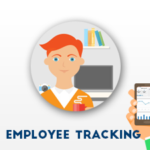 Employee tracking system
Our organization is among the trusted names engaged in providing a wide range of Employee Tracking System Dealers in Vadodara (Baroda), Gujarat, India. We provide consistent Employee Tracking Software to our regarded clients. You can track your Employee/Field Staff Live Location through Android and I phone App, Industry where e-Tracking is successfully utilized.
Features:
Live Employee Location
Simple to use interface
Time Specific Tracking
One touch Group Notifications
Department / Branches
Auto Capture Attendance
PIN code protection
Usage of Employee Tracking System:
Sales, Service, Parma, Advertising & Campaigns, Logistics & Ecommerce, Security & Patrolling, High Value Goods, FMCG Industries, Family Tracking, (Personal Tracking ) Vehicle & Driver Tracking.